Nationally Recognized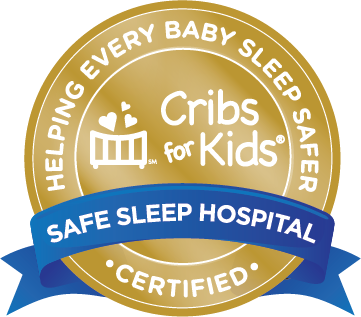 UMC Children's Hospital has been recently recognized by the National Safe Sleep Hospital Certification Program as the only Gold Certified Safe Sleep Hospital in Southern Nevada. The National Safe Sleep Hospital Certification Program was created by Cribs for Kids®, a national infant safe sleep organization. Headquartered in Pittsburgh, PA, Cribs for Kids is dedicated to preventing infant sleep-related deaths due to SUID and accidental suffocation. As a Nationally Certified Safe Sleep Hospital, UMC Children's Hospital is recognized for following the safe sleep guidelines recommended by the American Academy of Pediatrics (AAP) and providing training programs for healthcare team members, and family caregivers.
"Sleep-Related Death (SRD) results in the loss of more than 3,500 infants every year in the U.S.," said Michael H. Goodstein, M.D., neonatologist and medical director of research at Cribs for Kids®. "We know that modeling safe infant sleep in the hospital and providing education to families has a significant effect on infant mortality. Cribs for Kids Hospital Certification Program is designed to recognize those hospitals that are taking an active role in reducing these preventable deaths."
What does an infant-safe sleeping environment look like?
To create a safe sleep environment:
Always place a baby on his or her back to sleep, for naps and at night, to reduce the risk of SIDS.
Use a firm sleep surface, covered by a fitted sheet; a crib, bassinet, portable crib or play yard that conforms to the safety standards of the Consumer Product Safety Commission (CPSC) is recommended.
Your baby should not sleep in an adult bed, on a couch, or on a chair alone, with you, or with anyone else.
Keep your baby's sleep area in the same room where you sleep (for the infants first year). Room sharing not bed sharing. Always place the baby in a safety-approved crib, bassinet, or portable crib for sleep.
Sitting devices like bouncy seats, swings, infant carriers or strollers should not be used for routine sleep.
Keep soft objects such as pillows and blankets, toys and bumpers out of your baby's sleep area.
Wedges and positioners should not be used.
Do not smoke during pregnancy or allow smoking around your baby.
Do not let your baby get too hot during sleep.
Breastfeed your baby.
Give your baby a dry pacifier that is not attached to a string for naps and at night to reduce the risk of SIDS after breastfeeding is established.
Supervised Skin to Skin is recommended to all mothers and infants immediately following birth regardless of feeding or delivery, (as soon as mother is medically stable, awake and able to respond to her newborn) and to continue for at least an hour. Once mother starts to get sleepy, return baby to bassinet.
Follow health care provider guidance on your baby's vaccines and regular health checkups.
For additional information and education on safe sleep, please visit: https://cribsforkids.org and https://www.safesleepacademy.org.

This translation is provided by Google Translate. University Medical Center of Southern Nevada makes no representations or warranties of any kind, whether express or implied, regarding the accuracy of the translation provided above.